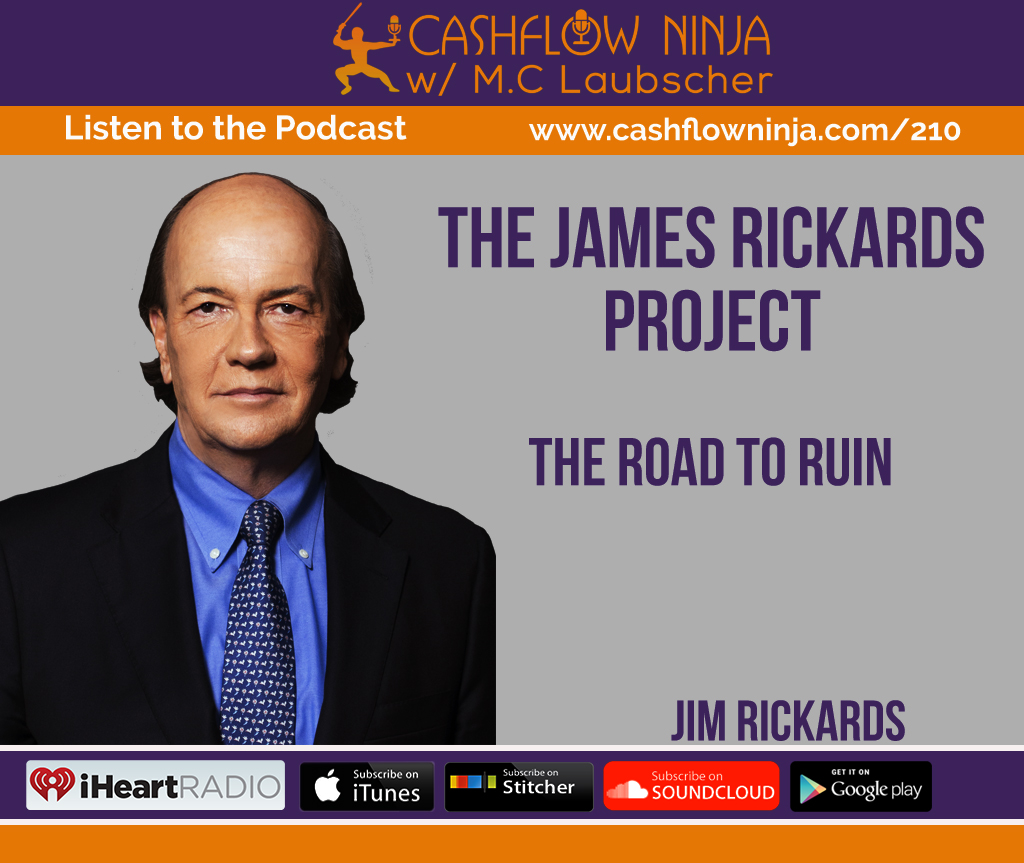 My guest in this episode is Jim Rickards. Jim is the Editor of Strategic Intelligence, a financial newsletter, and Director of The James Rickards Project, an inquiry into the complex dynamics of geopolitics + global capital. He is the author of three New York Times best sellers, The Road to Ruin (2016), The Death of Money (2014), and Currency Wars (2011), and the national best seller, The New Case for Gold (2016). He is an investment advisor, lawyer, and economist, and has held senior positions at Citibank, Long-Term Capital Management, and Caxton Associates. In 1998, he was the principal negotiator of the rescue of LTCM sponsored by the Federal Reserve. His clients include institutional investors and government directorates. He is an Op-Ed contributor to the Financial Times, Evening Standard, The Telegraph New York Times, and Washington Post, and has been interviewed on BBC, CNN, NPR, C-SPAN, CNBC, Bloomberg, Fox, and The Wall Street Journal. Mr. Rickards is a guest lecturer in globalization and finance at The Johns Hopkins University, Georgetown University, The Kellogg School at Northwestern, and the School of Advanced International Studies. He has delivered papers on risk at Singularity University, the Applied Physics Laboratory, and the Los Alamos National Laboratory. He is an advisor on capital markets to the U.S. intelligence community, and the Office of the Secretary of Defense, and is on the Advisory Board of the Center on Sanctions & Illicit Finance in Washington DC. Mr. Rickards holds an LL.M. (Taxation) from the NYU School of Law; a J.D. from the University of Pennsylvania Law School; an M.A. in international economics from SAIS, and a B.A. (with honors) from Johns Hopkins. He lives in Connecticut.
If you have enjoyed our podcast, please share with friends and family
Please Subscribe, Rate, and Review on Itunes so more people can find us!
Please Support Us by Becoming A Patron on Patreon
Support Our Sponsors
Gelt Inc.,  is committed to providing investors with quality, cash-flowing investment opportunities and is seeking to acquire multifamily, retail, and mobile home park properties in the Western United States with an emphasis in California, Utah, Nevada, Arizona, Colorado, and Oregon.
The Real Asset Investor, create value for investors looking for higher yield returns from real estate ventures domestically and also internationally and other real asset classes such as ATM's.
Joint Ops Properties, have designed a system to take any beginner to an experienced deal making investor in the least amount of time, offering opportunities from basic education, coaching, bridge investing to turn-key investments in the cash flowing market of St. Louis, MO.
Norada Real Estate helps take the guesswork out of real estate investing.  By researching top real estate growth markets and structuring complete turnkey real estate investments, we help you succeed by minimizing risk and maximizing profitability.
Valhalla Wealth Financial, reclaim the banking function within your own life with the premier strategies of the Wealthy.
Audible, download any audio book for FREE when you try Audible for 30 days
Thanks so much for joining me again. Have some feedback you'd like to share? Leave a note in the comment section below!
If you enjoyed this episode, please share it using the social media buttons you see at the bottom of the post!
Also, please leave an honest review for the Cashflow Ninja Podcast on iTunes.
Ratings and reviews are extremely helpful and greatly appreciated! They do matter in the rankings of the show, and I read each and every one of them.
And finally, don't forget to subscribe to the show on iTunes to get automatic updates, please follow me on twitter @mclaubscher and Instagram, @cashflowninjapodcast.
Until next time!
Live a life of passion and purpose on YOUR terms,
M.C. Laubscher
603: Rachel Jensen: How To Diversify Your Investments Internationally & Invest In Teak Like The Wealthiest 1%
My guest in this episode is Rachel Jensen.  Rachel is the Vice President of Sales & Marketing for ECI Development, a regional development company based throughout Latin America in Costa Rica, Belize, Panama and Nicaragua. From the ground up, she has built and grown the sales and marketing department at the Grand Baymen community. In…
602: M.C. Laubscher: How To Unlock The Vault Of Opportunities In The Post Reset Economy
In this episode, M.C. Laubscher shares an update on the health crisis and the unfolding economic crisis and he also shares some thoughts and ideas on how you can unlock the vault of opportunities in the post reset economy. Resources: Create A Strategy Become The Bank Join Our Community
601: Maureen McCann: Single Family Turnkey Trends & Opportunities
My guest in this episode is Maureen McCann. Maureen is the VP of Sales and Marketing at Spartan Invest and brings with her years of sales and marketing experience in the turnkey marketplace. Having served as an Investment Property coach for years, Maureen is skilled at helping clients build turnkey cash flow portfolios for her…