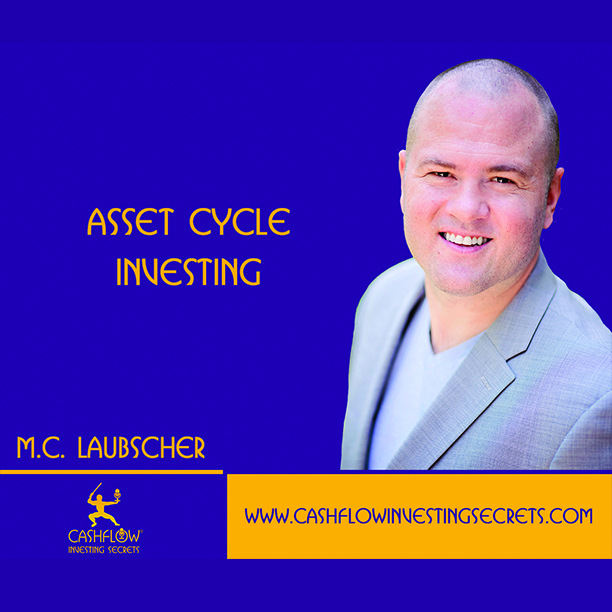 In this episode, M.C. Laubscher discusses asset cycle investing.
After studying millionaires and billionaires for over two decades and interviewing over 500 successful investors and wealth experts, I have compiled the 21 best cashflow investing strategy secrets I have come across on my journey. You can access the secrets at 21cashflowinvestingsecrets.com.
M.C. Laubscher is a husband, father, educator, and cashflow coach. He is the creator and the host of the popular and top-rated business and investing podcast, Cashflow Ninja and a brand new podcast, Cashflow Investing Secrets. M.C. is also the President of Producers Wealth, a wealth creation firm helping clients in 50 states implement holistic wealth creation strategies.
His purpose is to help producers and creators create, protect and multiply their wealth in ANY Economy and market. His mission is to help producers and creators achieve financial freedom as soon as possible so that they can live their legacy today on their terms.
M.C. challenges existing societal belief systems and misinformation around concepts such as money, saving, investing, wealth and retirement.
Connect With Us:  
Website: http://cashflowninja.com
Podcast: http://cashflowinvestingsecrets.com
Facebook: https://www.facebook.com/cashflowninja/
Twitter: https://twitter.com/mclaubscher
Parler: https://parler.com/profile/cashflowninja/
Instagram: https://www.instagram.com/thecashflowninja/
Linkedin: https://www.linkedin.com/in/mclaubscher/
Youtube: http://www.youtube.com/c/Cashflowninja
Bitchute: https://www.bitchute.com/channel/cashflowninja/
Brandnewtube: https://brandnewtube.com/@cashflowninja
Rumble: https://rumble.com/c/c-329875
Gab: https://gab.ai/cashflowninja
Minds: https://www.minds.com/cashflowninja
Biggerpockets: https://www.biggerpockets.com/users/mclaubscher
Patreon: https://www.patreon.com/cashflowninja
Google: https://plus.google.com/+Cashflowninja
Medium: https://medium.com/@mclaubscher
Pinterest: https://www.pinterest.com/mclaubscher/cashflow-ninja/
Meetup: https://www.meetup.com/members/12909189/
Tumblr: https://mclaubscher.tumblr.com
763: Michael Mathe & Jean Jeansonne: Is The Short Term Rental Market Crashing?
My guests in this episode are Michael Mathe and Jean Jeansonne from Lavish Keys. Michael and Jean discuss whether or not the short-term rental market is crashing and what is happening in their niche, the luxury short-term rental market. Interview Links: ninja@lavishkeys.com Grab My Book: The 21 Best Cashflow Niches™: www.cashflowninja.com/21niches Join My Inner Circle…
762: Steve Hoffman: What You Need To Know About AI & ChatGPT
My guest in this episode is Steve Hoffman aka Captain Hoff. Steve is the Chairman & CEO of Founders Space, a global innovation hub for entrepreneurs, corporations, and investors, with over 50 partners in 22 countries. Hoffman is also a venture investor, founder of three venture-backed and two bootstrapped startups, and author of several award-winning…
761: Claudia Moncarz: How A Tax Legal Team Fits Into Your Tax Strategy
My guest in this episode is Claudia Moncarz. Claudia is the founder of Moncarz Law Firm. And focuses her practice on helping people get out of trouble with the IRS. Claudia and her team have negotiated with the IRS to reduce over three million dollars in taxes and penalties on behalf of their clients. Claudia…